Recommended Reading Healthcare isn't just a specialty, it's our middle name.
MODUS executives and its Board members include health care industry veterans, and clinicians. Together they have developed, designed or built approximately $1B worth of healthcare projects. In fact, healthcare is all we do. As the only modular builder devoted entirely to healthcare, we build to the highest applicable building codes, from Miami-Dade wind requirements to seismic standards in California.
We have partnered with the leading healthcare architects and construction firms to develop state of the art healthcare facilities while cutting time and costs out of the building process. (See, Our Partners)
http://theuntoldstory.guru/tag/civil-war-love-stories/ MODUS saves time, and time is money.
While componentized healthcare facilities can be "bespoke" or custom designs, costs savings are realized by replicating proven designs: operating theatres, emergency rooms, and patient care units for example. They can be priced, designed, approved and built in less time than the traditional design process.
Specialty hospitals can be opened within 9 months of contracting; Surgery Centers and Emergency Rooms (AE Units) can be open within 6 months of contract, and clinics within 4-5 months.
The capital costs for a sample specialty hospital can be reduced by over $1millon, and revenues realized months – or years – faster.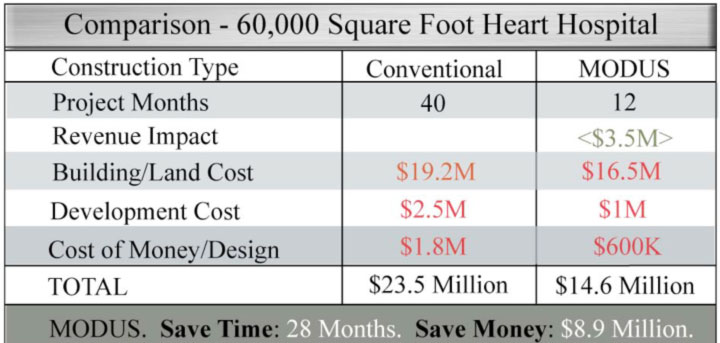 chloroquine phosphate 250 mg in hindi MODUS drives cost out
Build on site, and your costs rise as your schedule slips. Your interest payments rise and you pay more for capital while labor costs creep up. Our innovative designs can be "bespoke" or custom designs, but replicating proven design features saves time, and money. Building in a controlled environment means:
1. No lost days due to weather, supplies not shipped, etc.
2. Site work and construction work proceed simultaneously
3. Lower labor costs because all time is productive
4. Inspectors in the plant keeps the project moving, so there are no lost days waiting for an inspector before moving to the next building phase or trade
5. Regional wage rates vary by as much as 50%; we build only in non union plants, and almost exclusively in right to work jurisdictions
6. Designs can all be tailored to meet your plans or altered slightly to utilize existing engineering and design
7. Our award winning operating room uses proprietary features to ensure one to two more procedures can be done during the day to maximize utilization of the OR
8. Prices can be locked in for 6 months so there are no surprises in material costs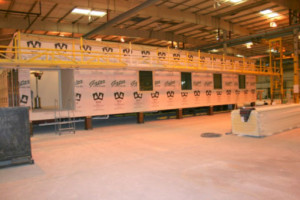 The MODUS operating theatre design was recognized by the International Perioperative Nurses as the best in the world. Our award winning operating room utilizes sterile pass through technology to maximize efficiency and turn rooms faster.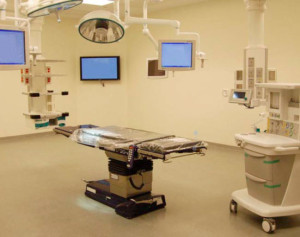 Lines for medical gasses are installed in the plant to save time, and we use proprietary technology to use compression fittings on med gas lines to speed the commissioning process once the modules are set.
Panelized wall systems can allow for conversion of rooms from single to double in hours. Interstitial space is rationalized and minimized because of Controlled Environment Construction (CEC®).

MODUS builds to the highest standards
Each component is built using moment frame construction: each can stand on its own. Poured concrete and manufactured steel frames, innovative wall systems and anti-microbial finishes are all pre-installed at the plant. Nurse call systems, life safety features, and all electrical and plumbing are done in the plant, and inspected on the line without delay.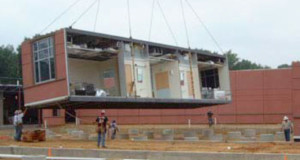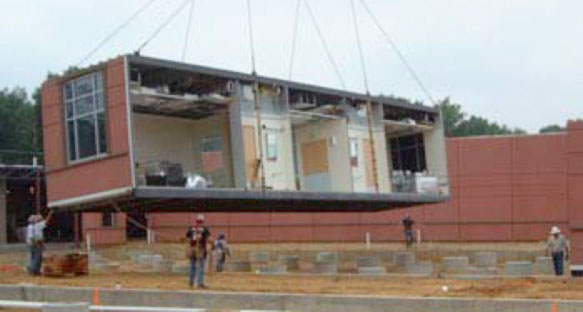 While traditional project design teams are still arguing over change orders and cost over-runs, MODUS structures have been commissioned and are seeing patients, reducing delays in circulation at the hospital, and generating revenues.
In the plant, workers ply their trade in a controlled environment, at eye level, in logical order so the finished project is exactly what was designed and agreed upon. It's easier to maintain and efficient to operate.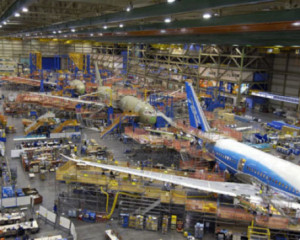 You wouldn't build an airplane in an open field, but that's what traditional hospital construction entails. A complex structure being built exposed to the elements, subject to storms and other weather delays. MODUS eliminates delays and inefficiencies, uncertainties and "work around" compromises to the design that occur in site built construction.
World Class design. LEED and BREEAM certified. Built in a fraction of the time, at lower cost than site built designs. Meeting all IBC requirements, as well as the stringent Miami-Dade wind standards or California seismic standards and OSHA requirements, MODUS buildings are designed for the same usual life as site built buildings… but at less cost, in less time and with higher quality, dollar for dollar.
Built in either the US or UK depending on the customer's requirements.